Improve Your Mood, Improve Your Productivity
Focus on how recharging can improve your mood and enhance your productivity. When you have an important or complex task to complete, take a minute to breathe or stretch before you begin. Use the time to clear your mind of distractions so that you can give all of your attention to the task at hand. You'll be surprised how much more enjoyable the task can be when you put your mind and body in the right frame of mind. 
TAKE A MINUTE TO STRETCH: Next Stretch
Drop your ear to shoulder and hold. Repeat on the other side.

Hold each stretch 20-30 seconds.

Remember to breathe.

Repeat up to 3 times daily.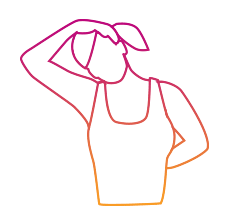 TAKE A MINUTE TO BREATHE:

Let go of expectation.
Sit down and close your eyes.

Inhale – give yourself permission to try something new.

Exhale – let go of any expectations for how you will feel.

Inhale – listen to your body.

Exhale – let go of any judgements.

Inhale – ask yourself to open your mind.

Exhale – let go of expectations.
Repeat. 
Share this Article