Make it Part of the Environment and Culture
Focus on how your physical environment influences your response to stress. Create an environment that reminds you to reset, relax and RECHARGE. Survey your surroundings. An unpleasant environment can trigger stress.  A pleasing environment, on the other hand, can reverse the negative effects of stress and put you in a better frame of mind.

Transform your desk into your personal relaxation zone. Try incorporating visuals, quotes and posters to remind you to breathe and stretch throughout your day. You may also consider posting a sign to let people know you are taking a RECHARGE break:
Increase your motivation by inviting others to join you in a weekly RECHARGE break. Try this stretch routine together or start a meeting with one minute of belly breathing.  Try it with coworkers or your family members. Stretching and breathing is good for people of all ages and can be fun when you do it with others.
TAKE A MINUTE TO STRETCH: Seated Twist
Place your left hand on your seat behind you and your right hand on the outside of your left thigh.

Gently turn your shoulders and head to your left until you feel a stretch. 

Repeat on the other side.

Hold each stretch 20-30 seconds. Remember to breathe. Repeat up to 3 times daily.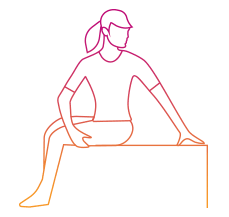 TAKE A MINUTE TO BREATHE: Stand and breathe deeply  
Try your belly breath while standing. Place your feet shoulder width apart. Soften your knees. Roll your shoulders back and open your chest. Bring your ears above your shoulders. Lengthen your neck. Being your 4-Count Belly Breath. Consider starting your stretching practice with a standing breath. 
Share this Article