Open Your Mind and RECHARGE
Get the most out of your relaxation practice by always leading with an open mind and let go of expectations. As you begin your breathing exercise or stretch, use the exhale to remind you to let go of expectations.

Let go of how you think it should feel or what it should look like. Give yourself permission to simply experience what happens. As you inhale, use that moment to listen to your body. You might be surprised how revitalizing and reinvigorating it can feel – as the stress you may have been experiencing is naturally released.  
TAKE A MINUTE TO STRETCH: Chest Opener
Lift your arms into a Y position palms facing the front.

Lower the arms and bend both elbows into a W position.

Keep your arms in this position and push your shoulders back.

Hold each stretch 20-30 seconds. Remember to breathe. Repeat up to 3 times daily.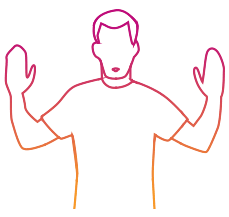 TAKE A MINUTE TO BREATHE:

Count your breaths 
Try counting each exhale. Counting can help in two ways. First, it occupies your mind, so stressful thoughts have less space. Second, you can learn how many deep breaths it takes to make you feel relaxed or calm (you might be surprised at how few it takes!). 
Share this Article