UPDATE:
In response to San Francisco's Public Health Order issued on March 16th, 2020 for residents to remain in place to help curb the spread of COVID-19, the SFHSS Wellness Center will be temporarily closed starting Tuesday, March 17th, 2020 until further notice. Our top priority is the health, safety and well-being of our members and community. 
CLASSES have gone VIRTUAL. Check out our calendar of events.
We look forward to welcoming you back to the SFHSS Wellness Center, so please continue to check our website for updates on our re-opening or sign-up for our eNewsletter here. 
–––––––––––––––––––––––––––––––––––––––––––––––––––––––––––––––––––––––––––––––––––––––––––––––––––––––––––––––––––––––––––

Wellness Center group exercise classes, workshops, coaching and other activities are open to all employees and retirees of the City and County of San Francisco, Superior Court of San Francisco, San Francisco Unified School District and City College of San Francisco.
Employee and retiree family members may also participate in these activities, if they are age 18 or older and enrolled in a San Francisco Health Service System health plan. Employee Assistant Program (EAP) services are for active employees and immediate family members only. Check out the variety of classes and special events this month at the Wellness Center. 
Image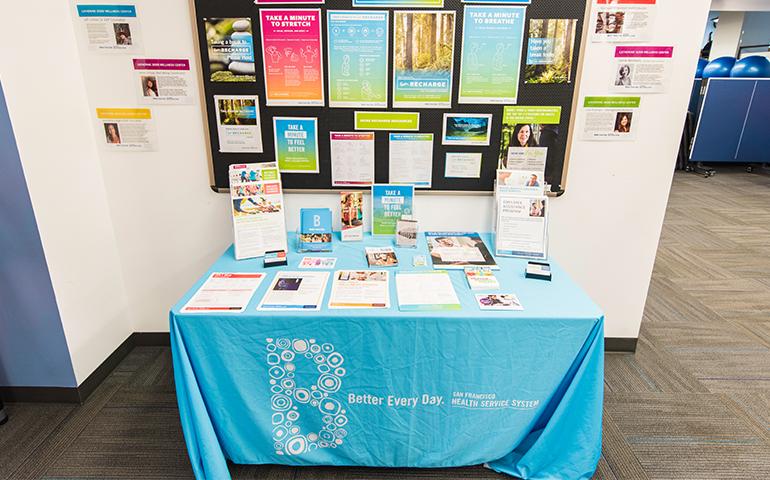 Contact Us: 
Catherine Dodd Wellness Center
1145 Market Street, Suite 100
San Francisco, CA 94103

Phone: (628) 652-4650
Email: Well-Being@sfgov.org
Things you can do at the Wellness Center:
Image

Image

Image

Image

Image

Image

Image

Image

Image