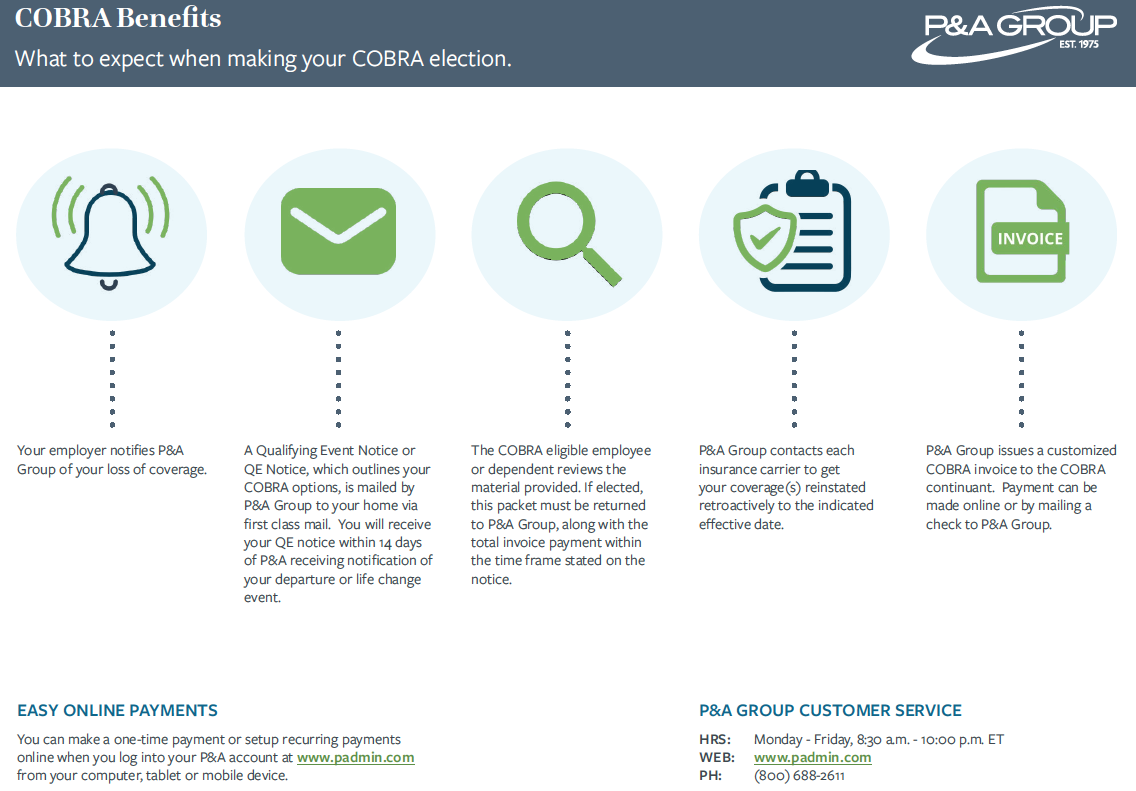 Established by federal law, COBRA offers employees and covered dependents the opportunity to elect a temporary extension of healthcare coverage in certain instances where coverage would otherwise end. Employees have the right to purchase continuation of coverage if coverage is lost due to specific Qualifying Life Events. When a Qualifying Life Event occurs, the COBRA Administrator P&A Group will notify you of your right to elect COBRA coverage.
You will have 60 days from the date of this notification to elect COBRA coverage. The coverage will be continuous from the date of the qualifying event so you will not have a break in your healthcare coverage. While you are covered under COBRA, you have 30 days to add any newly eligible dependent (spouse, domestic partner, newborn or adopted child) to your COBRA coverage from the date of the event (birth, marriage, etc.).
Once COBRA continuation coverage is elected, it is the responsibility of the covered individuals to pay the required healthcare premiums directly to the COBRA administrator
P&A Group.
As an alternative to COBRA, you may purchase individual coverage from the state health insurance exchange Covered California. Tax credits and other subsidies are available for those who qualify through Covered California, to reduce insurance costs. You can also purchase individual insurance through a health plan.
Please contact your plan for details and costs. Employees and dependents who were covered under an SFHSS administered health plan are entitled to a certificate showing evidence of prior health coverage. This certificate may assist you in purchasing new health coverage that excludes pre-existing medical conditions.
See below for the 2020 COBRA Rates for active employees. Retirees should contact P&A Group directly for retiree plan COBRA rates at (800) 688-2611.