Image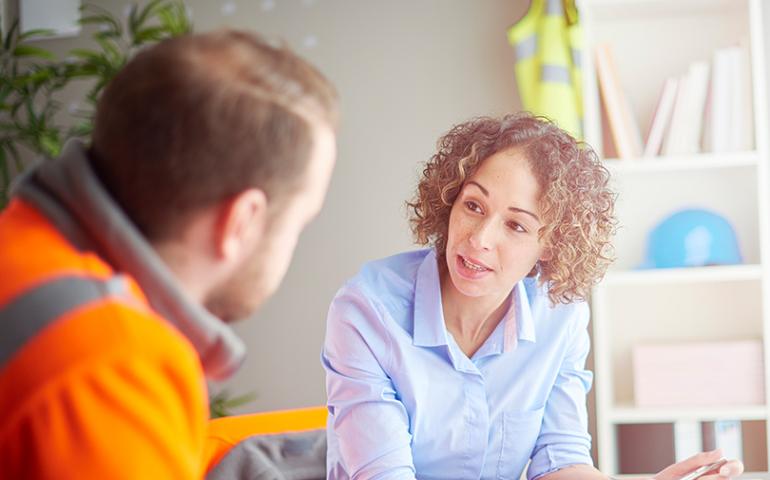 As a Supervisor, Manager, Director or HR Professional, you have many rolls to fulfill—Leader, Educator, Supporter, Coach, Counselor, and Influencer. Your EAP counselors understand the difficulties that come with managing others and are here to help you in all of these roles so that you and your team can function at its best.
Services and Trainings
EAP 101 - An Orientation for Leaders

This one-hour introduction to the SFHSS Employee Assistance Program (EAP) informs managers, supervisors, directors, and human resource professionals about the variety of services offered to employees and the unique consultation, coaching, counseling and organizational services offered to leaders. Learn about how and when to refer an employee, what you can do for your employees to help them after a disruptive event / critical incident and when to reach out for EAP services to come to your workplace. Learn about the seminar, training and workshop opportunities available to you and your work unit. To schedule EAP 101 for your leadership staff or to learn more, contact Employee Assistance 24/7 at (628) 652-4600or(800) 795-2351. Calls are answered 24 hours a day, 7 days a week. You can also send email us at eap@sfgov.org.

To learn more about EAP's full suite of services, Download the EAP 101 Reference Guide.

Referring an Employee to EAP

Your EAP counselors are here to help you figure out the best strategy to refer an employee to EAP services. Feel free to call for a consultation - we're here to help 24 hours a day, 7 days a week: (628) 652-4600or(800) 795-2351.

Workshops and Trainings for You and Your Employees

Leadership in Action

Join EAP and your colleagues for a series of three interactive workshops designed to address the unique challenges faced by Supervisors, Managers & Directors. Learn about yourself as a leader through self-assessments and discussion. Understand your preferred style of dealing with conflict. Practice using different modes of conflict management to increase your confidence and effectiveness in difficult situations. Explore ways to improve/ enhance your communication. Consider the importance of emotional intelligence in your leadership role and identify steps you can take to increase your emotional intelligence quotient.  

This workshop series begins with the one-hour EAP 101.  Click here to learn more about the Leadership in Action Series.

We're Here For You - EAP Orientation

This 15-20 minute introduction to the SFHSS Employee Assistance Program will orient your employees to the variety of services available to them and their immediate family. Employees will learn how to access EAP services, what kind of time they can use to utilize services and how EAP counselors can be helpful for a range of needs and problems.

Making Work, Work Series

These four skill-based workshops are designed to help improve employees' stress management, interpersonal skills and work experience. Being able to manage stress and manage emotions is essential for workplace well-being. Learning to communicate effectively and handle difficult people can have a positive impact on the work environment. Call EAP for a consultation to find out if this workshop series is right for your group.

Managing Stress

This workshop examines the importance of perspective in dealing with stress.  Participants will explore how they react to stressful situations and learn how to develop healthy habits for dealing with stress in their work and personal lives.  Participants will get an introduction to simple relaxation techniques for use at work and at home.  

Effective Communication

This interactive and informative communication workshop explores how to be a more effective communicator. Employees learn about the three parts of communication, how emotions can drive communication style, effective listening skills and how assumptions can lead to miscommunications. Focusing on self-awareness, employees will begin to develop a plan for better and more effective communication through listening, assessing the situation, inquiry and self-assessment.

Dealing with Difficult People

This interactive workshop helps employees deal more confidently and effectively with difficult people and situations. Employees will learn how to match a person's emotional state with an appropriate response aimed at remaining calm while moving the situation forward in a positive direction.

Non-Violent Crisis Intervention Training

This day long workshop is designed to help increase employees' confidence and effectiveness in handling crisis situations. Using evidence-based techniques, employees learn to recognize early warning signs of a conflict/crisis and how to defuse an explosive situation. Employees learn verbal and physical techniques to reduce the risk of injury and potential liability, while increasing personal safety in a conflict.