Image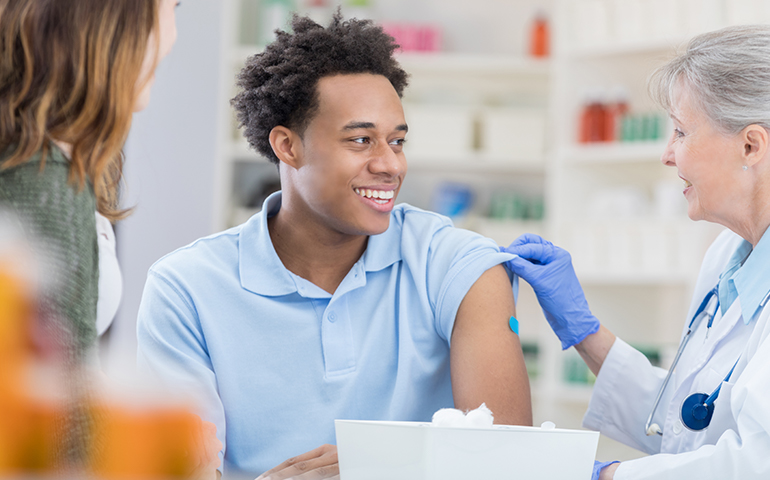 Don't let the flu bring you down...
Everyone – even healthy adults – needs their annual flu shot to help stop the spread of this highly contagious (and potentially dangerous) respiratory illness.
Get a free flu shot through your health plan.
UnitedHealthcare PPO Members

UHC Medicare Advantage PPO Flu shots are covered at no cost from an in-network physician. Additionally, flu shots are covered at no cost by any provider who accepts Medicare and is willing to bill UHC. 

City Plan PPO Flu shots are covered 100% from an in-network physician, or at one of the retail pharmacies and Convenience Care Clinics below. Show your medical ID card:

Albertsons® (Albertsons Sav-on and Albertsons Osco)
CVS®
Harris Teeter®
H-E-8®
Kmart®
The Kroger Co.® (d/b/a Smith's, Ralph's, Roundy's, Pick 'n Save, Copps Food Center, Metro Market, Mariano's, Fred Meyer, Fry's, QFC, Harris Teeter, King Soopers, City Market, Food 4 Less, Dillons, Baker's, Gerbes, Jay C Food Stores, Owen's, Pay Less, Scotts)
Meijer®
New Albertsons® (Acme Sav-on, Jewel-Osco, Star Market, Shaws Osco and Safeway)
Publix®
Rite Aid®
Safeway® (Carrs, Pak'N Save, Pavilions, Randalls, Tom Thumb and Vons stores)
Shopko® (Shopko Express and Shopko Hometown)
United Supermarkets® (Albertsons Market, Amigos and Market Street)
Walgreens® (Duane Reade, Jim Myers, Kerr Drug, May's Drug, Parkway Drug and Super DJ)
Walmart® Stores Inc. and Sam's Club®
MinuteClinic®
The Little Clinic®
RediClinic®
Walgreens Healthcare Clinic®

Blue Shield of California HMO Members

Get a flu shot from a Primary Care Physician (PCP) at no co-pay cost. Contact your PCP to schedule.  
Your medical group may also offer reimbursement for flu shots received at a clinic or pharmacy.

Call for details:

Kaiser Permanente HMO Members

Kaiser Permanente HMO and Kaiser Permanente Senior Advantage HMO
Go to any Kaiser Permanente medical facility for a free shot.

Visit kp.org/flu or call (800) 573-5811 for times and locations.
2019 Flu Shot FAQs
Why should I get a flu shot?

Influenza is a serious disease that can lead to hospitalization and sometimes even death. Every flu season is different, and influenza infection can affect people differently. Even healthy people can get very sick from the flu and spread it to others. An annual seasonal flu vaccine is the best way to reduce the chances that you will get seasonal flu and spread it to others. When more people get vaccinated against the flu, less flu can spread through that community. You can protect people who are at greater risk of getting seriously ill from the flu. The flu shot may also make your illness milder if you do get sick. 

How long does it take for the flu vaccine to become effective?

A flu vaccination takes about 2 weeks to become fully effective.

Who should get the flu shot?

Everyone 6 months and older is recommended for annual flu vaccination with rare exception. It is especially important for children younger than 5, people 65 years and older, pregnant women, and those with conditions like asthma, diabetes, and chronic lung diseases because they are at greater risk of developing complications from the flu, like pneumonia.

When should I get a flu shot?

The CDC recommends vaccinating as soon as vaccine is available. See the CDC website for details. However, the flu season usually does not begin until mid to late December, and peaks in January to February. So, October and November clinics are generally considered good timing.

Can I get the flu shot if I have a cold?

Yes, as long as you don't have a fever.

What else should I do to prevent the flu?

You can avoid close contact with people who are sick, stay home when you are sick, cover your mouth and nose when coughing or sneezing, wash your hands often with soap and water, avoid touching your eyes, nose, or mouth, and practice other good habits such as a healthy diet, exercise, and 7-8 hours of sleep every night.

Where can I learn more about the flu?

You can learn more about the flu by checking out the Centers for Disease Control and Prevention (CDC) website.

Where can I learn more about flu vaccines?

You can check out the Centers for Disease Control and Prevention (CDC) website for information about the flu vaccine.